Submitted by Administrator on Tue, 14/10/2014 - 20:47
---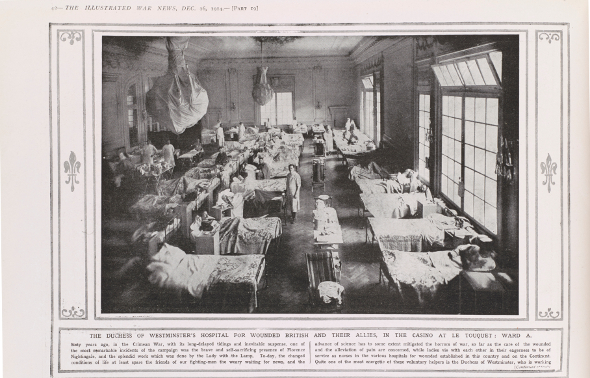 On October 17, 1914, Charles Myers, Director of the Cambridge Psychological Laboratory, abandoned his University post and travelled to France. Although his newly-built laboratory was well equipped for work in his specialist field of psychoacoustics and although – from his experiences in Sarawak – he had an anthropologist's understanding of human conflict, Myers was drawn to serve the country.  As a young man, he had qualified in clinical medicine at Barts and he now offered his services to the War Office as a medical officer, but was told that they were not accepting doctors over 40 (Myers was 41).  He next tried the Order of the Hospital of St John of Jerusalem, and then the Red Cross, but both organisations had many more applications than posts available (success, it was hinted to him, depended on social influence alone). Then, however, Myers learnt – from the Barts journal – that the Duchess of Westminster had taken out a complete hospital unit to France, staffed by doctors and nurses trained at Barts.  The Duchess (formerly Constance Edwina Cornwallis-West) was married to one of the richest men in the pre-war world.  Now, in October 1914, she had proceeded to France with hospital kit that filled a dozen railway cars.  
Hoping to exploit old contacts from Barts, Charles Myers travelled in mufti to Paris. He was able to use the Folkestone to Dieppe service (There were civilian railway services to France throughout the Great War.) In Paris, Myers secured an interview with the Duchess. In those early days of the war, she too was in a buyer's market.  She promised 'to do what she could'. Three days later Myers was offered a post. Crucial perhaps was the influence of the Duchess's Matron, who was an acquaintance of his from younger days at Barts. Though without a military commission, he now ordered a 'nondescript khaki uniform' from a Parisian tailor.  
It took the Duchess some time to find a fitting site for her hospital, but soon her persistence and her connections allowed her to secure the Casino at Le Touquet. Myers was appointed Registrar. The staff were lodged at the Hôtel des Anglais and were made honorary members of the golf club. Myers – a Cambridge academic with little clinical experience – confined himself initially to his duties as Registrar, developing a cross-referenced card index that was admired by visiting dignitaries from the Army Medical Service. But soon he was to see his first case of 'shell shock' and this was to alter the direction of his career.
Professor John Mollon