Submitted by Administrator on Thu, 23/05/2013 - 17:29
---
Professor Nicola Clayton and artist Clive Wilkins on Springwatch Unsprung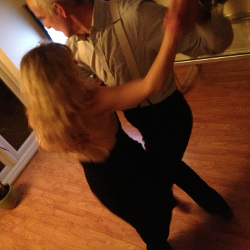 Professor Nicky Clayton and her collaborator, the writer and artist Clive Wilkins are combining science and the arts to explore how we think, with and without words. Nicky and Clive are guests on BBC Two's Springwatch, which airs at 7.30pm on Wednesday May 29th, and directly following this they will appear live on Springwatch Unsprung, which begins at 8.30pm. This is an opportunity to see Nicky and Clive dance the Argentine tango, and to learn more about their research on the subjective experience of thinking. 
To view Nicky and Clive's extensive programme of events, see their
diary on The Captured Thought blog.